Preface:
About two and half years ago I purchased a used Fiskars StaySharp Max Reel Mower for $60. After an initial tune up I've been using it trouble free as the main (and only) mower for two and half seasons.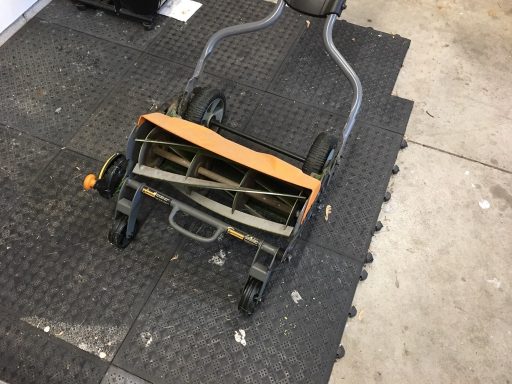 Getting saggy:
Recently I encountered an issue that I couldn't imagine happening – saggy chain, manifested by chain falling off during use. In my infinite ignorance I believed that the chain is the ultimate power transferring mechanism which under normal loads would never fail. Unfortunately I was proven wrong suspiciously fast – about 2.5 years of use (without accounting for previous ownership).
After some quick research I figured only two things: there aren't many people with the same issue and Fiskars does not sell replacement chains for their infamous StaySharp Max Reel Mower. Moreover, Fiskars doesn't seem to sell any parts for the mower, in other words if anything wears out then you either buy a new mower or substitute with custom or "whatever fits" parts.
I decided to follow Scott Robinson's path purchased bicycle chain and replaced it. The job is easy and straight forward, no issues there. However when I took apart the mover, I discovered worn teeth on both gears. In addition, new chain seemed to have similar amount of slack as old one. Honestly, I'm not sure how everything is going to work out, but for the time being, the new chain seems to do the trick.
Concluding rant:
This far I'm very happy with the mower. It is cheap, easy to use, easy to tune up and doesn't require much attention. I adjust blade twice per season and mow grass once a week to keep it from overgrowing. However I'm fairly annoyed with the fact that Fiskars doesn't sell replacement parts for StaySharp Max Reel Mower! Does it simply imply that the mower will never break? Or that the mower is disposable like a plastic bag? For me, neither is the case and so I'm ask: what the hell is Fiskars doing?
Download: StaySharp Max User Manual PDF