After 8 years of working on the MacBook Pro 2012 model, it was time to switch to something more modern. There were a few reasons for switching to a new MacBook Pro, but the main one was the lack of power. The Intel i5 with 2 cores wasn't cutting it anymore. Despite being on an outdated macOS, newer software and updates were becoming more demanding, while other software became absolute with no prospects for updates.
I consider myself lucky because I managed to avoid some of the worst ideas that Apple introduced in their laptops over the past few years, such as the butterfly keyboard, Touch Bar, and the lack of ports in the pro lineup. However, it seems that MacBook Pros have become more expensive. Additionally, it's no longer possible to buy a modest laptop and upgrade the RAM and storage later when component prices drop. I purchased the base model of the 14-inch MacBook Pro 2023 with 32 GB of RAM and 1 TB of storage. Based on my calculations, this laptop should serve me well for next 10 years, or so I hope, based on my previous experience. Nevertheless, it still feels a little strange to make the jump from the MacBook Pro 2012 to the MacBook Pro 2023.
Now, let's address the obvious. The new MacBook Pro 2023 is faster, lighter, better, and overall more impressive, especially in audible area. However, it feels like I haven't really changed laptops. The keyboard is slightly different, and the trackpad is bigger, but somehow it feels very similar to the old MacBook Pro. The finger position is the same, the controls are similar enough, and the feedback is familiar. It's different, yet somehow the same, and I really like that. Speaking of the keyboard, the functional keys are bigger, and I think it's a good idea. At the very least, I enjoy having larger keys. One noticeable improvement that I can't ignore is the built-in speakers. The speakers are loud, really loud, to the point where it's uncomfortable for me. I can't believe I'm saying this, but yeah, the built-in speakers are too loud for me. Maybe I'm getting older and/or used to listening to quiet music on my Sony XM4 headphones. Whatever the case may be, it doesn't change the fact that the new MacBook Pro's built-in speakers are very good and definitely a lot louder than those of my old MacBook Pro.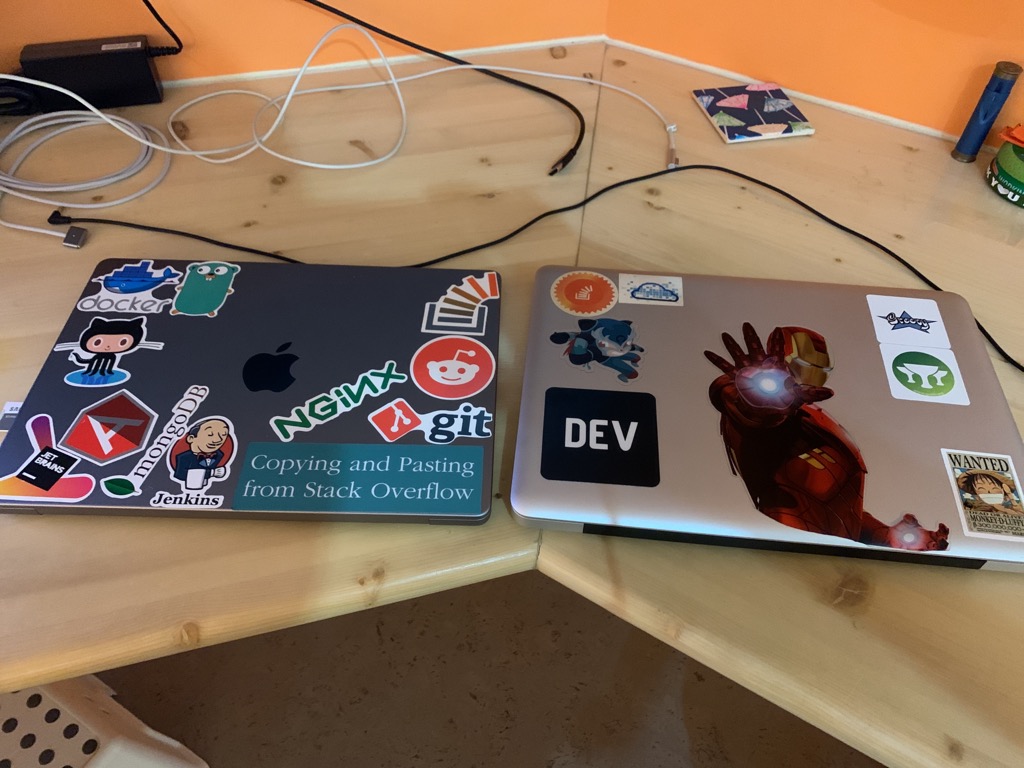 Software migration from macOS Mojave to macOS Ventura went surprisingly well. A few apps stopped working due to the unsupported OS, which I expected. You can only drag along old apps for so long before giving up, wrapping them in Docker or something similar and continuing to use them. Well, I haven't gone that far, but I'm really considering the option. The new macOS doesn't allow user data to be located in the root, and I'm guilty of doing so. Nonetheless, the data can be moved. However, I did encounter some challenges with the transition from iTunes to the new Music app. Previously, iTunes managed all my media, including audiobooks. Unfortunately, the "improved" Music app no longer takes care of audiobooks. After the migration, my audiobooks were conveniently forgotten, and I had to manually clean up and move them to the "Books" app. Another issue arose with the "Contacts" app. After the migration, it doubled its size and duplicated all contact cards. The management of contacts and cards has been rather poor for years, and it seems Apple is aware of the problem. As a result, the "Contacts" app now includes options like "Look for duplicates" and "Merge Selected Cards," which saved my sanity. I've had the unpleasant experience of manually cleaning up duplicates and merging contacts before, and let me tell you, it's no fun. One of my favorite features of the new macOS is "background sounds," found under Accessibility -> Audio settings. This feature allows you to set up background noise while you work, which is awesome. I often play a quiet melody to help me focus, and now macOS provides the convenience.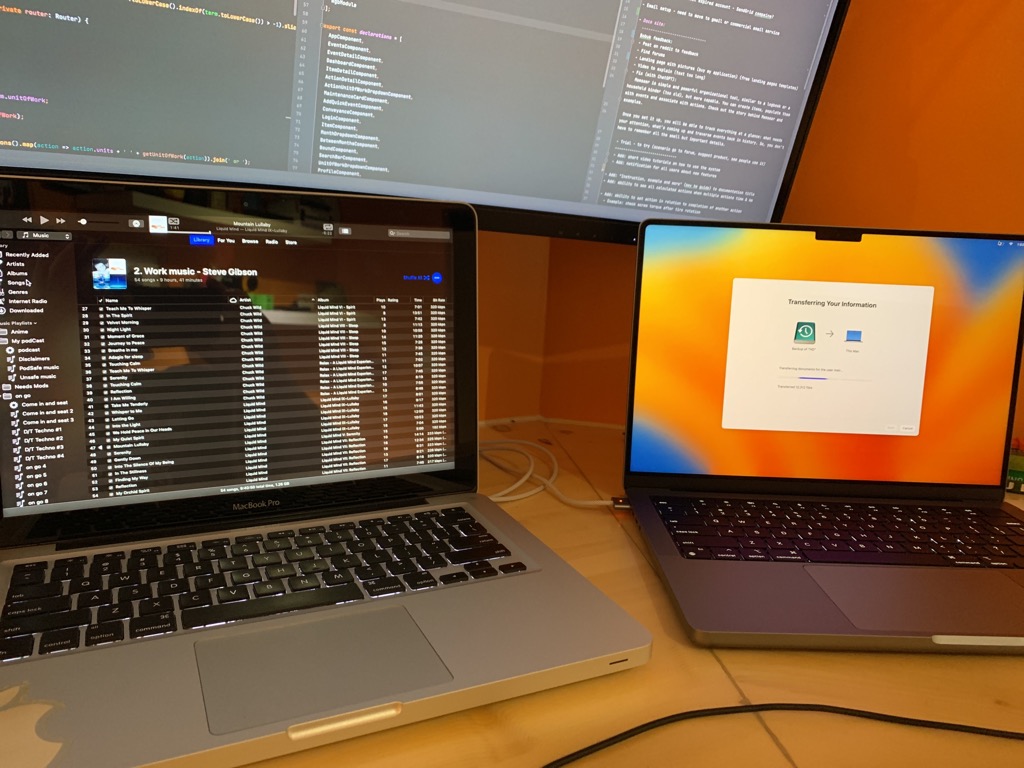 The new MacBook Pro can support two external displays, which is awesome. Although I'm not sure when I'll take advantage of this feature, as a single 34-inch display is sufficient for my needs. Interestingly, my old MacBook Pro was also able to handle a 34-inch display, so there doesn't seem to be a significant advantage in this regard. However, the new MacBook Pro converts GarageBand files to MP3 about 3-4 times faster, even though the bouncing speed hasn't changed significantly. It's worth noting that I run my MacBook Pro in low power mode all the time. I prioritized low heat and low power consumption. Even in low power mode, the hardware is quite impressive. Everything is snappy, quick, and doesn't seem to encounter any issues so far. I understand that over time, as hardware ages and software becomes more demanding, the laptop will start to slow down. I've been down this road many times before, but for now, I'm impressed.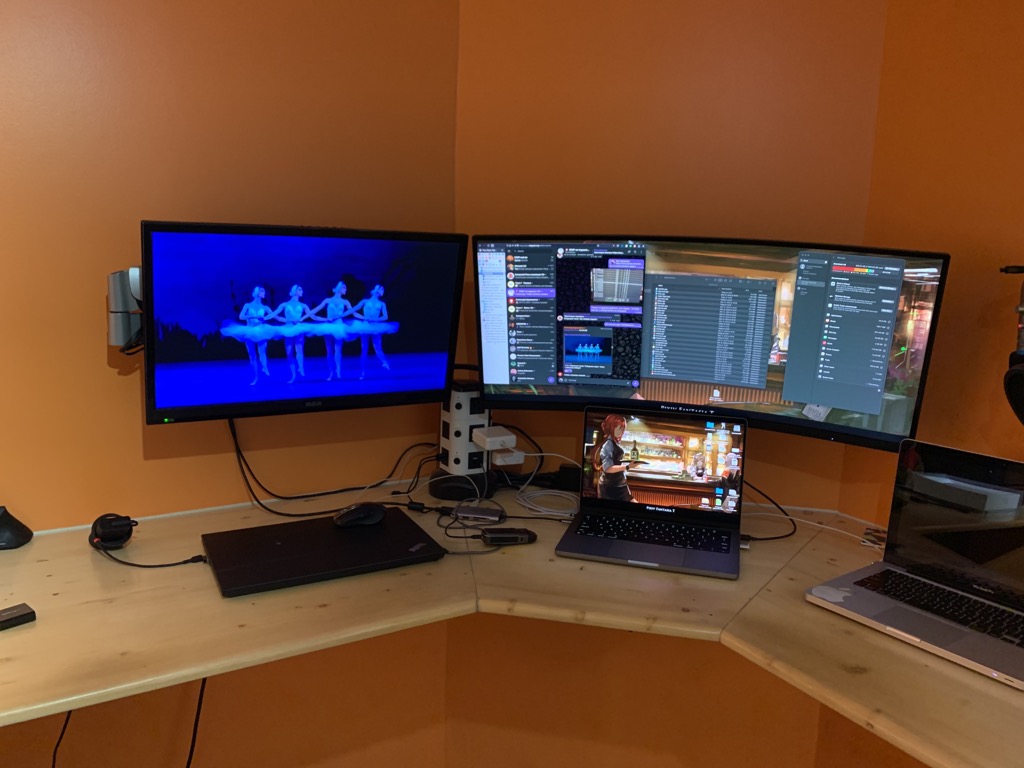 Overall, I'm impressed with the laptop and very happy that Apple has returned to delivering proper pro-line hardware with power, ports, a simple keyboard, and no gimmicks. Everything feels very familiar, although there are some differences here and there. But overall, it feels like I haven't really changed much; macOS has gained a few features and started working very fast. I don't think I could ask for much more than that.